Kundala - Munnar
Kundala is a picturesque place, about 20 km from Munnar on the way to Top Station. It is at a height of 1700 meters above sea level. It is located at a distance of 20 kilomet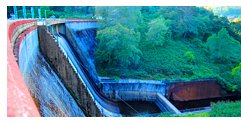 ers from Munnar. In Kundala, cherry blossoms appear twice in a year. The famous Neela Kurunji flowers which bloom once in twelve years, bloom in the hills and valleys around Kundala lake.
There is an artificial dam in Kundala which is another major attraction here. It is Asia's first Arch dam. The boating experience at this dam is a wonderful experience beyond words. Boating facilities namely pedal boats, Kashmiri shikkara boats and row boats are available on rent to make your trip more enjoyable. A Golf Course is also located here which belongs to
Tata Tea Ltd. Aruvikkad Waterfall is also situated nearby Kundala. The Sethuparvathi dam built in 1946 as a part of Pallivasal hydroelectric project is a sight to behold.

Munnar is the nearest town to Lake Kundala and is well connected by road transport, mainly buses and taxis. The nearest railway station is either Ernakulam or Kottayam. You can get hired vehicles such as private cabs and taxis from the railway station to reach Lake Kundala.


Marayoor
Neelakurinji
Nilgiri Tahr